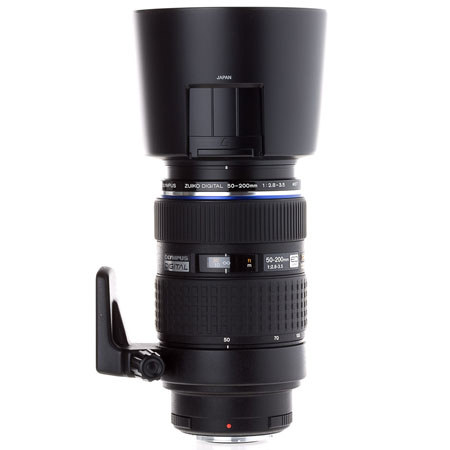 this is one heck of a lens. NEVER before have I used a lens that focus this quickly before. this goes to show its SWD feature (Supersonic Wave Drive) is really what it claims.

Description

Designed to meet the needs of the professional photographer, Zuiko Digital lenses were born of an uncompromising commitment to performance. The lenses feature high resolving power, to get the most out of the imaging element. Zuiko Digital lenses allow light to strike the image sensor at a near-perpendicular angle, minimizing degradation and light loss. This large, award-winning family of lenses is perfectly matched to work exclusively with digital cameras so every pixel is properly exposed.

This is a high-performance super-telescopic zoom lens that features, for the first time, the Supersonic Wave Drive (SWD) autofocus system which enables the lens to achieve an AF speed about two times faster3 than the previous ED 50-200mm f2.8-3.5 model. ED lens elements are used extensively to correct the color blurring that can occur when telescopic lenses are extended to their maximum focal length, while the digital-dedicated design ensures high-quality performance with clear, crisp images from edge to edge. Close-up shooting capability is also superb, with a minimum shooting distance of just 1.2 meters throughout the zoom range.
Features
| | |
| --- | --- |
| | 50-200 millimeter f/2.8-3.5 zoom lens for digital cameras (equivalent to 100-200 millimeter in 35 millimeter photography) |
| | Features Supersonic Wave Drive (SWD) technology inside to provide quiet, ultra-fast autofocus speed |
| | Maximizes the E-3's high-speed autofocus capability |
| | Digital-dedicated design ensures high-definition performance with clear, crisp images from edge to edge |
| | Minimum shooting distance of just 1.2 meters throughout the zoom range |